August, 2004

God is love
Stay close to the Lord
Do what is right and pleasing to God
Know the truth
Seek wisdom and understanding
Trust Jesus
---
To Be A Success In 2004 (Version 5)
Omaha World-Herald, September 12th, 2004, Section A or B

The Day My Dad Died (Version 7)
Omaha World-Herald, September 19th, 2004, Section A or B
---
(August 31, 2004 5:29 AM CDT)
Someone wrote to me requesting prayers,
since they are having surgery tommorrow.
God be with them in their time of need.
Welcome to the "Katie Effect" .
I am on a liquid diet all day today
and will have a colonoscopy tomorrow morning.
I was listening to Katie's documentary on her colonoscopy,
on the first link above, but I have "needle phobia",
so I had to stop it
when they got to the inserting the IV needle part.
You don't want me to faint do you?
This procedure could save my life.
You just never know.
My mom had a growth in her colon removed a few months ago
and it does run in families.
It could have saved the life of Katie's husband
Jay Monahan that died at age 42 on January 24, 1998.
Unbelievable!
It just breaks your heart to think of Katie
and her two girls without their husband/dad.
May the Lord comfort Katie and her family
and watch over them.
Speaking of dying...
I saw my name in the church bulletin at the church
on 19th and Dodge Streets yesterday.
At 7 AM today they are saying a Mass for me.
I hope this does not give anyone a "heart attack,"
because I am still very much alive!
Maybe the prayers are for my procedure tomorrow.
Maybe this is a Mass for my dad.
I'm not sure.
I just don't want to scare anyone.
I am listening to the Beach Boys this morning.
I'm getting "psyched up"!
Soon I will be flying there.
I just "love" California,
but God will "never" let me move there.
I don't think so.
I don't think that is part of his plan for me and my life,
but you never know!
You just don't.
I will try to post daily pictures from California,
but I'm not sure if I will be able to accomplish that.
I will have a laptop computer with me,
so it definitely is highly probable I will succeed.
If not, it will all be on the laptop and
I will upload it to Novia when I get back home.
Jesus said,
"Whenever you give a lunch or dinner,
do not invite your friends or brothers
or relatives or wealthy neighbors.
They might invite you in return
and thus repay you.
No, when you have a reception,
invite beggars and the crippled,
the lame and the blind.
You should be pleased that they cannot repay you,
for you will be repaid in the resurrection of the just."
Luke 14:12-14
Sounds good to me.
Help the poor.
Be kind to them.
Speaking of 1998...
it was the year of the strike (work stoppage)
at the company where I work.
I remember in August, 1998 in Albuquerque, New Mexico
these people would feed lunch to the homeless
outside of the office building where I was working
there in the downtown area.
I gave the people serving the lunch a few bucks
and they were reluctant to accept it.
I insisted.
I told them that "lunch was on me" that day.
Do it.
Would you do something...anything to help the poor?
---
(August 30, 2004 6:03 AM CDT)
A cricket has invaded my house.
It is down in my basement chirping away.
Yesterday at Boys Town I met Ben.
He wanted to help with something after church.
He maybe was 5 years old with glasses.
That was very nice of him!
God bless him and his family.
And later I met Marva at a store in Regency.
She goes to Boys Town also,
but the service before the one that I attend.
She knows Fr. Val from when
he was at Creighton University.
She saw the Boys Town bulletin in my pocket
that is how the conversion got to that subject.
I usually fold it so that the chapel is visible.
It is just a little message
about attending church on Sundays
for people to see as I run around town.
Jesus said,
"If you want to avoid judgment,
stop passing judgment.
Your verdict on others
will be the verdict passed on you."
Matthew 7:1-2
Give people the benefit of the doubt.
Not everyone is like you.
We don't all think alike.
Each of us is different and
it is a struggle to get along.
Walk a mile in their shoes.
Try to be understanding.
God will help you to love
even the most difficult people.
So...
what is your verdict?
---
(August 29, 2004 5:56 AM CDT)
Here is a picture from the summer of 2001 .
It is taken from the top of the bank
at 16th and Dodge Streets pointing east
when it was under construction.
I have no idea who took.
I got it from someone at work January 15, 2002.
It is in the afternoon as you can see from the shadows.
Look...Dodge Street is even open!
The ConAgra fountain is going.
It is just like a view from an airplane.
There is no new UPRR building!
The Hilton on 10th Street is under construction.
The building with the bell on it
is where I work most of the day currently on 8th floor.
I work in two locations in downtown Omaha.
Yesterday I was listening to a sermon by
Joel Osteen of Houston, Texas.
His wife's name is Victoria.
You can watch his services in real time
at 8:30 AM and 11 AM CDT today on this link above
and click on "On-Line Streaming."
You can watch what's happening in Houston live.
Interesting!
They have a $1.2M house this web site said.
So I don't know what to think of the guy.
For sure I would not send him any money
for his $70M building project.
I sent him a "Prayer Request" to pray for the success
of the two advertisements in the newspaper Sept. 12 and 19
and to pray for someone that has cancer.
I bet he could afford to put my advertisements
in the N Y Times and L A Times.
He sure could, if God wanted him to do it.
Music this morning?
My CD of songs of
Daryl Hall & John Oates .
They will be here in town this week,
but I can't go see them.
It is 18 tracks long.
I can't say I like every one of their songs,
but they are Okay/OK.
At 8:02 AM I couldn't take it anymore,
so I hit the eject button on the CD!
"With closest custody, guard your heart,
for in it are the sources of life."
Proverbs 4:23
Joel quoted this just minutes ago (at 9:25 AM).
Yes, guard your heart.
May your heart be pure.
May you be true.
What comes out of your heart
people will see.
What is in your heart?
What do you have to give?
If there is poison in your heart,
it will be obvious.
Keep good things in your heart.
Store your treasures there.
Share what is in your heart.
---
(August 28, 2004 5:19 AM and 10:56 AM CDT)
Would you believe I got up at 1:32 AM PDT today?
My, is that early in California!
I will be out there soon.
Yesterday I would say I hit a streak of mild depression.
I was really down.
I did crash.
I expected it.
It usually happens after all the excitement dies down.
I was trying to analyze what caused it,
but today so far I'm doing fine.
I'm watering the front yard this morning.
The grass is starting to dry up in places.
I hook up a hose and move the sprinkler around
to cover the various areas.
I usually let the backyard go dormant.
It comes back again with no problems months later.
I'm studying the town of Santa Clarita this morning.
This is 30 minutes north of Los Angeles.
It is the home of Six Flags Magic Mountain
which I will check out for all of you
and let you know.
Yesterday at about 7:20 AM (Omaha time)
I was talking to one of the people I work with.
They recently went to
Six Flags in St. Louis and really enjoyed it.
So it should be fun!
Speaking of time...
I just subscribed to Time Magazine .
Their news reporting is a little old,
since most of it is in the daily newspaper,
but their photographers are awesome!
That is worth the price of the $30 for 84 issues.
I sound like an advertisement, sorry!
Music?
I'm not listening to any music this morning.
That is a side-effect of the down day yesterday I guess.
I have the Honeywell 51000 air-purifier going on high,
if that counts.
I'm moving the sprinkler around outside just now
and it is still dark at 6:28 AM.
The days are getting shorter!
I had to turn on a light to see what I was doing.
(10:57 AM)
This is the first August in recent history
that I can open all the windows in my house
and enjoy a beautiful day like today.
It is 68 F degrees right now.
Allegra is doing a great job!
Cool!
"When I came to Troas to preach the gospel of Christ,
the door of opportunity was opened wide
for me by the Lord."
2 Corinthians 2:12
The Internet has opened the doors and windows
to the gospel of Christ.
It is there.
Many people are studying the Bible.
Many blessings are there for the taking.
Get into the word.
---
(August 27, 2004 5:21 AM CDT)
Believe it or not I got more sleep last night (6 hours)
than the night before (3 hours).
Here are the pictures of the new McDonalds
at 40th and Dodge Streets.
It looks more like the lobby of a Hilton hotel.
They just rebuilt this within the last month.


Here is the intersection of 40th and Dodge Streets.


Sorry that this is out of focus, but you get the idea.
This is a fancy place!
It was raining that day and you had to be careful
walking on the brand new floor.


Here is one of the two plasma TVs.
You can see the map of the storms pounding
the state of Iowa on the local channel 7 news.
On the right is an Internet connection area
where you can hook up your laptop computers.


This is in a little room on the west side of the restaurant.
It is a map with pink hearts all over it.
They mark the location of Ronald McDonald houses across the USA.
There is one in Omaha a few blocks away from there.
I have even been to the place with my friend Margaret.
She used to work there.
I think she "ran the show," if I remember right, at that time.


This nicely frames my car.
You can see my orange juice and mom's coffee cup.
I took my mom to breakfast there that day.
Notice the straw.
I don't like to use straws usually,
unless I get something for the road to drink in my car.


I usually don't print pictures of people,
but these people were all on channel 42 News at 9 PM
that day, so they "asked for it,"
since they "made the news" that day.
Maurin had just returned from Iraq.
I probably told you to pray for her
many months ago for her safety.
She's home now.
She is the daughter of someone that I work with.
I filmed the whole scene with a very expensive
camcorder that I had borrowed from someone else
that I work with.
The video of the homecoming turned out great!
It almost looked like I knew what I was doing.


Yesterday I gave Ellen a check for the 3 extra column inches
in the newspaper for September 19th advertisement.
The two advertisements are set to go,
except for a page number in the September 19th
advertisement pointing back to the September 12th advertisement.
It is set.
Finally I can relax!
That is just too much stress!
It is amazing that I can handle it.
Thanks for all your prayers.
"With that he set off for his father's house.
While he was still a long way off,
his father caught sight of him and
was deeply moved.
He ran out to meet him,
threw his arms around his neck,
and kissed him."
Luke 15:20
This is the story of the Prodigal Son.
Read the whole story on this link above.
It is time to return home!
You have been gone too long.
It is time to return to your loving Father.
Come home to a celebration with WAY more than balloons
and flowers and TV cameras and cheers of the crowd!
Heaven and earth rejoices at your return!
It is party time!
---
(August 26, 2004 6:13 AM CDT)
As you can see from the time I am running late.
I just don't have time to write to you at the moment.
Today is going to be a non-stop day,
so pray for me.
Thanks!
Yes, the airplane with Maurin made it to Omaha last evening!
That was cool!
---
(August 25, 2004 6:01 AM CDT)
It's been two months...
two months since my dad died.
It seems like years ago.
It is an unreal feeling.
Today I will be watching an airplane
fly across part of the Midwestern USA.
The plane is going from Texas to Nebraska.
Go to this link (American Airlines)
and enter "440" for the Flight Number
and click on GO.
As you can see, the scheduled time of arrival
in Omaha, Nebraska is 6:37 PM CDT.
This morning I'm trying to figure out
what "Irrepressible Hope" is.
I will ask the two people that I work with
that went to the Women of Faith conference last weekend.
I wrote a check to the Omaha World-Herald yesterday
and gave it to Ellen, so...
unless "the/da bomb" drops between now and September 12th
it will become part of history.
When I was a kid I never ever expected
to see the year 2000...
that was just dreaming.
I "expected" to be blown away
by a nuclear bomb one day.
It only takes one nuclear bomb
to ruin your whole day, as they say.
Omaha is right next door to SAC.
SAC is target number 1 on the list.
Then Ellen told me that the amount of money
would probably not be enough!
Great!
30 column inches will be exceeded.
I just had too much to write about!
Stay tuned for new numbers.
I gave Ellen the text for the September 19th advertisement.
I deleted over half of the text in it and
that is still too much apparently.
If you want to help pay for these two advertisements,
send a check to Spring To Life, P.O. Box 261,
Omaha, NE 68101-0261.
Even if it is just $1, you will share in the blessings.
You do NOT have to help me pay for this.
I can do it all by myself...
or then again...
I could use a "team" and
then I could put it in the N Y TIMES
or L A TIMES.
I wonder if God wants that to happen.
I don't know.
What am I listening to this morning?
Well, how about Daryl Hall & John Oates .
On ITUNES I purchased their "Very Best of" CD.
18 songs from long ago.
They are coming to town on September 3rd.
It says, "9/03: Mid-America Center Council Bluffs, IA"
on their web site.
And I can't go!
Well, that is the way life is...
Did you cast your vote?
Go to www.sos.state.ne.us and vote.
It was a "no-brainer" for me.
I voted for #18 with Boys Town on it.
I go to church there all the time and know Fr. Val.
He is a good friend.
"We have this hope as an anchor
for the soul, firm and secure."
Hebrews 6:19
This is on the cover of the "Irrepressible Hope"
conference program.
I'm not sure what it means,
but I will check it out.
---
(August 24, 2004 6:02 AM CDT)
There is an unbelievably important card/letter
going through the postal system today.
I mailed it yesterday inside
a building at 19th and Douglas Streets
where I work.
It has 3 stamps on it (it is THAT important).
Pray for the person receiving it.
Thanks.
Yesterday I got two proof copies of the advertisement
for September 12th.
I will scan the final one in and show you when I get a chance.
I think it is ready to go!
I will give Ellen a check today and
it becomes part of history.
I'm also working on the advertisement for September 19th.
I had to cut the size of it way down.
It was going to cost about $1,800,
so I put a line in there that says
it is "continued on the Internet."
This will force people to visit my web site,
if they want to see the rest of the story.
The web site only costs about $20 per month.
The people at Novia Internetworking are fantastic!
God bless them!
Call them (402-895-2633),
if you need a web site set up.
Ask for Linda.
"You shall love the Lord your God
with all your heart,
with all your soul,
with all your strength,
and with all your mind;
and your neighbor as yourself."
Luke 10:27
Sounds good to me...
just do it.
---
(August 23, 2004 5:46 AM CDT)
Pray for baby Madison in Denver.
She is having problems with her lungs.
Thanks.
Yesterday I went to Boys Town Dowd Chapel for church at 10:30 AM.
I arrived early and sat in pew number one on the right side,
which I have never done before.
On my left was Maggie who was at most 4 years old.
She was so cute!
On my right was Ag/Agnes who was maybe 84 years old.
I asked Agnes at the end of Mass
to pray for my friend's Mom that has cancer.
She said her husband died 22 years ago of cancer.
It still hurts...
still miss him...
after all that time...
just think about that for a few seconds...
I was talking to my cousin in Dayton, Ohio
last night and she says that
the game of spoons "goes way back" in her family.
I guess it came from Dayton and
was brought to Omaha by my cousins.
That is how I found out about it.
"We brought nothing into this world,
nor have we the power to take anything out.
If we have food and clothing,
we have all that we need.
Those who want to be rich
are falling into temptation and a trap."
1 Timothy 6:7-9
Many times I have told you to live the simple life.
You don't need the latest this or that.
You can live without cell phones,
DVD players, plasma TVs,
a brand-new home and the latest cars, etc.
Do you have enough to eat?
Do you have a place to stay?
Do you have family and friends?
Do you have a God that loves you and watches over you?
What more could you ask for?
Live the simple life!
Thank the Lord for what you have.
---
(August 22, 2004 6:07 AM CDT)
(Update at 8:49 PM:
Look at what I found this evening when I got home.
This is 4 feet long and would have really hurt me
or someone else standing there in the yard.
You would think that someone was threatening my life.
That was my first reaction to this.
Maybe this is a spiritual battle.
I have total confidence that God's angels
will protect me from harm.
I must have written something for the newspaper
that was really powerful!



My nephew and I got out the ping pong table this afternoon.
I beat him, of course, 3 games to 1!
I had the home court advantage.
We used the trash cans to stop the ball from going into the street.
It is a very nice table!
It was very interesting playing with the wind outdoors.
I've never done that before.



At 3:30 PM the Thunderbirds were flying over Bellevue, Nebraska,
so I took some pictures of them.
It is very hard to take pictures of them!
They are way too fast!





)
Yesterday I got a ping pong table from heaven
dropped off right to my house for free.
It did not cost me a dime!
God is good!
Here is a picture of it in my garage.
It is heavy.
It takes two people to set it up.
I have 3 nets to choose from to use on the table.


Look at this...
Table Tennis is in the Olympics in Athens!
(Note the name of the company on this link
and look at the top left corner of this S2L page.)
If I had only known...
I could have been there...
maybe 4 years from now.
Would you believe I have not seen one minute
of the Olympics?!
I just don't watch TV.
I don't have time.
There is way too much going on in my life.
My life is going 105 MPH
like that speeding ticket I got
when I was driving down I-80 returning to UNL
one day in college.
The state trooper got me going 86 MPH
or something like that.
It could have been a higher number!
As long as I had my camera out,
I took some pictures around my house.
There is a steel beam buried in my backyard.
It is parallel to the fence on the right.
It is about a foot from the fence.
I wonder if I should dig it up.
It could be worth a fortune
with the price of steel going up lately!
It is about 8 feet long.



Here is the power wire through the northern tree
of my backyard from my deck.
(I had just finished mowing the lawn.
Doesn't it look beautiful?)
I should pay OPPD to bury it.
During the storm of October 26-27, 1997
there was a large branch on this wire.
It was "V" shaped just sitting on the wire.
I got tired of waiting for OPPD to come and
get rid of it.
I grabbed it and removed it myself!
I could have easily been electrocuted,
but I'm still here!
Not too smart!
My number must not have been up!



Here is the neighbor's rain gauge
on the southern fence.
It is getting worn out this year
from our 28.81 inches of rain so far.

Yesterday I was at Borsheims looking at butterflies.
These are just a "little" out of my price range ($885).
Wow...the pink and red ones were awesome!
I was working with Janet to look at a few things.
She showed me this cute little gold heart with pink diamonds.
It was "only" $3K!
Oh, OK...just $3,000...way WAY out of my price range.
It was pretty though.
If you gave that to someone,
their heart would "skip a beat"...
it would skip a lot of beats!!!
They would be speechless and
start to cry and then
have a heart attack on the spot.
(I will try to get a picture of it and show you.
I looked and could not find it on Borsheims web site.)
Here is the butterfly I'm looking for.
I just sent Janet (JanetBrannen@borsheims.com)
an email of this and told/asked her to find it!
She gave me her card with product numbers
and sky-high prices all over it.
That was the first time I have ever been in that store
and after seeing the prices it might/will be my last,
unless Janet can match this butterfly.

I'm also looking at lawn mowers.
I think I'm going to buy a Toro 20008 .
I need a bag though.
What is this "bag optional" stuff?!
I need something to help pick up the leaves
from 3 Silver Maple trees each fall.

I finished that book ("The Christmas Box") yesterday!
I showed it to Michelle at AAA yesterday morning.
I told her to read it to her boy.
It is a little long to read to a kid,
but it is a neat story.
It doesn't take too long to read.
I read it in a day.
She helped me find some places to stay
in Santa Clarita and Newport Beach, California.
She was very helpful!
I told Michelle "God bless you" as I left.
I surprised myself.
I don't usually say that to strangers!

I saw this on a bumper sticker at Harrah's
the other day...
"Work like you don't need the money,
love like you've never been hurt
and dance like no one is watching."
I should have taken a picture of it for you.
It is like a "prophecy" as they say...
right on the bumper of a car...how strange!

I'm just listening to tape 95-2.
You would not believe how many times
I have had to flip the tape this morning...
or maybe you would!
It is a 90 minute long tape
(45 minutes each side)!
There are songs I have heard twice today.
"David, girt with a linen apron,
came dancing before the Lord with abandon,
as he and all the Israelites were bringing up the ark
of the Lord with shouts of joy
and to the sound of the horn."
2 Samuel 6:14-15
He danced.
He was happy.
David was so close to the Lord.
He danced for joy in knowing his God.
He was that close!
Dance.
(And he saw THE ARK...the real thing...
that people dream about finding/seeing today!)
---
(August 21, 2004 7:06 AM CDT)
Look at that time...I am slowing down.
I am starting to "crash."
After being "high" for so many weeks I'm coming down.
What goes up must come down.
Pray that I don't crash too hard.
Thanks.
Today at 12 Noon I'm getting a ping pong table
delivered to my house for free...FREE!
Some friends want to get rid of it and
I said that I've always wanted one at my house.
The only problem is that there is no place
to set up the table in my house.
I will have to place in the garage or in the driveway.
My brothers tell me that playing ping pong outdoors
is very difficult, but I'm going to give it a try.
The ball is too light and the slightest wind
blows it away I imagine.
I have a "roving reporter" at the Qwest Center this weekend.
She says "the conference is really good" so far.
She reports that two women were assigned the same seat
by some computer mistake or something or other.
They were going to have a cat-fight
right there at this Christian event!
Everyone has their assigned seats,
so that if there is an emergency back home
they can go right to their seat and give them the message.
I asked her to take some pictures
and the ushers are really a pain apparently.
I would say something about women ushers vs. men ushers,
but we will leave it at that.
They are standing quite a bit and clapping and
singing songs.
Sandi Patty is there.
She has an incredible voice.
"Give thanks to the Lord, for he is good,
for his kindness endures forever."
Psalms 106:1
The Lord is kind.
He is good.
We owe him one.
He has given us life.
Scientists still can't explain
what life is.
You can't see it under a microscope.
The spirit is involved also.
The creative power of God is there,
but you can't see it.
We thank you, Lord, for our lives.
We can't comprehend this awesome gift.
We have a hard time appreciating
what you have given us.
Thank you, so much for all that you do!
We are grateful.
---
(August 20, 2004 5:32 AM CDT)
(Update at 9:40 PM:
This is the Qwest Center at 7:30 AM this morning
taken from 14th and Cuming Streets.
This is where the Women of Faith conference is at
today and tomorrow.


This is across the river in Council Bluffs, Iowa.
I took my Mom to breakfast here on the first floor
this morning.
That red car next to mine sure looks cool!
I wonder who makes it.


This is another picture of the Qwest Center
taken about an hour ago from the 12th floor of Harrah's
in the Vertigo at 360 restaurant.


Here is the Omaha skyline also from the same place.
The Qwest Center is the building on the right side
beyond the Interstate 480 bridges.




Earlier today I started to read
the book "The Christmas Box" .
I am on page 66 at the moment.
I got the book from the 4th floor
of the public library downtown.
The allegra seems to do well for me.
I will have to call Dr. Dunning
to get an official prescription Monday.
)
This morning I'm reading a prayer.
It is called "Prayer of Abandonment" .
I asked Bridget yesterday about it
and she did not know what it was.
Last night I watched the movie Cold Mountain .
I can't recommend it to you.
It has WAY too much sex and violence in it.
If there was some way to skip over all that,
then you have a love story
about two souls trying to find each other
under impossible circumstances.
Love from a distance, as they say.
Renee Zellweger was alright.
She did keep her clothes on the whole time.
She won the award "Best Supporting Actress."
For the most part I like her acting over the years.
Nicole Kidman is so beautiful!
Wow!
The winter scenes with Nicole were awesome to behold.
She did NOT keep her clothes on.
Nicole, what are you doing?
Here God gives her this incredible gift
and what does she do with it?
Nicole, you don't have to show everyone all your skin.
She did not have to do that!
I can just feel it this morning...
something big...
very big spiritually is happening...
Tonight is the Women of Faith conference
here in Omaha, Nebraska USA!
Hold on for the ride of your life!
God will visit his people!
Jesus said,
"Again I tell you,
if two of you join your voices
on earth to pray for anything whatever;
it shall be granted you
by my Father in heaven.
Where two or three are gathered in my name,
there am I in their midst."
Matthew 18:19-20
It only takes 2 or 3...what if you have 10,000?
God will rain down his blessings on Omaha today and tomorrow!
Praise the Lord.
He is awesome...
he is!
---
(August 19, 2004 4:29 AM CDT)
(Update at 7:46 AM:
I was just talking to my friend Bridget
and she tells me her Dad has cancer,
so remember her Dad and family in your prayers today.
Thanks!)

This morning I've been up since 2:51 AM
working on "The Day My Dad Died" .
I have added many more details of that day
and thoughts that I have after some perspective
of the passage of time.
It's getting there.
Last night I watched the movie
Something's Gotta Give .
I say you must be at least 17 (or more) to view this.
There are many sexual themes/scenes
and brief nudity here and there.
The setting in a beautiful house on the coast
in New England was very nice but artificial...I don't know.
The main characters essentially have no morals.
They sleep with anyone they can.
It does keep your attention though somehow for 128 minutes.
The scenes in Paris were a let down for me.
You think of how romantic Paris must be
and it just was NOT romantic.
Does it really snow in Paris in February?
I guess so.
I think they needed a daytime setting for Paris
at the top of the Eiffel Tower or something like that.
Diane Keaton is beautiful...she is!
She looks like a friend of mine...kind of.
I will have to call her and see if other people say the same thing.
I will never look at light/dark rocks on the beach the same again.
It has the standard happy ending...that's alright I guess.
I did not care for the French sounding music in the background
from time to time...I didn't.
Maybe they just picked the wrong songs or something.
See...I am a critic!
"I miss you" as Harry types on his computer
is an interesting moment.
Will he send it or not?
I would worry about people seeing this film and
jumping into bed, so I cannot recommend this movie to anyone.
Sorry.
It was cute/interesting, but very dangerous morally speaking.
And I didn't "freeze frame" it to get a good look at Diane,
which is a little surprising for me.
That's what I mean, it is morally dangerous.
There is a time and place for sex when you are married,
but it is just not right, if you are not married.
Sex is beautiful.
Hey, God made it.
But there are restrictions/rules/boundaries on using it.
"If they were to keep silence,
I tell you the very stones would cry out."
Luke 19:40
All creation cries out to the Lord.
The stones on the beach sing praise.
They bring a message.
The Lord misses you.
He sends you instant messages all the time.
Will you have a heart attack?
Do you even have a heart?
How will you respond?
---
(August 18, 2004 6:09 AM CDT)
Today is the day.
I will turn in the text for
"To Be A Success In 2004"
to Ellen Collins at the Omaha World-Herald.
Writing an article is "never done."
There is always something to add/change/delete/improve upon,
but you get to the point were it is good enough.
It says something.
It has your key points that you want to say.
I will talk to Ellen today.
Someone will set up the proof copy for Ellen,
so they have to read these words also.
Pray for all these people involved at the newspaper.
Maybe they will be touched by what I have to say
as they work on this advertisement.
The newspaper should "love" what I have to say
in their paper, so I have total confidence
that they will make it very visible.
As you look at a two page open newspaper spread,
the upper left and upper right corners are the most visible.
It has to do something with how people scan the pages
with their eyes, as they read the paper,
and flip through the pages.
The center bottom is invisible.
It is.
You don't want you advertisement there!
This concludes the "Newspaper 101" class for today.

The movie I watched last night was...
Master and Commander .
There is no way to improve on this film.
No deleted scenes to worry about.
The imagery is mind boggling.
It is very well done.
I am impressed!
It takes you to 1805 on the open ocean.
You are there.
It tells you about courage
in the face of overwhelming odds.
Never give up!
I like Russell Crowe's work.
I admit I am bias toward him.
The music was "haunting" at times.
It was a surreal feeling.
It won the Oscar for "Best Cinematography" and
"Best Sound Editing" and was nominated
for just about everything else.
Jesus taught them,
"This is how you are to pray:
'Our Father in heaven
hallowed be your name,
your kingdom come,
your will be done
on earth as it is in heaven.'"
Matthew 6:9-10
They prayed this prayer in the film
as they buried those who had died at sea in battle.
Praise be to God.
May our actions further the kingdom of God here on earth.
May we do what the Lord asks of us...
with courage...
with conviction...
with commitment...
We will have the victory in the end!
There is no doubt about this...
evil will be defeated.
The Lord will triumph.
The battle is the Lord's!
---
(August 17, 2004 5:27 AM CDT)
Last night I watched the movie
50 First Dates .
I was impressed.
It passed the "Daniel Test."
They just need to delete
all the attempts at "crude sexual humor."
It is not funny.
This would, of course, get rid of one third of the dialog,
but then you are left with a wonderful story of love.
It is cool.
It is original.
It draws you in.
There were touching scenes.
It had a happy ending.
It leaves you feeling warm.
You did not need to go look at the deleted scenes.
The story was all there.
The scene with the baseball bat is "a classic."
Now that is funny!
The penguin getting "run over" is hilarious.
(Parts of both these scenes are on the link above
on the trailer.
I had to choose the setting of
Windows Media to see a continuous picture on my PC.)
The setting of the movie is awesome.
I assume it was filmed in Hawaii.
I've never been to Hawaii,
so I don't know what it looks like.
The background is distractingly beautiful.
I watched it on a 27-inch TV.
It must have been something to see in the theaters.
I did not care for the wife
who kept giving her husband the finger
in response to some crude remark.
Like I say, it is NOT funny.
It was a distraction.
This morning I'm listing to "Why can't I?" by Liz Phair.
Cool song!
It was in the movie "13 Going On 30."
Also, the song "Extraordinary?" which is "R" rated.
It is a beautiful song with way too sexy lyrics.
Why do they do that?
I guess that is Liz.
I better pray for her.
About once an hour yesterday I took pictures out
the east 8th floor windows of my building where I work
on 13th and Douglas.
Here is a few of them.
1:30 PM is the time to take pictures.
The shadows are just right.




Here is my favorite sidewalk one block to the west
in front of the UPRR building.
I have to walk on it every workday.


Here are those cars that all should get a parking ticket soon.
I love the way that the sidewalk sparkles.



Here is where I watched the fireworks on the left
July 17th with MLB (not to be confused with Major League Baseball ).
Alls we had to do was walk a few steps to get a seat to sit on.
We did not see that in the dark.

Would you believe I ran a red light last evening?
I was trying to return that 2-day rental movie
"13 Going On 30" to Blockbusters.
The light turned green and the cars in front of me did not go.
After a few seconds I ever-so-gently honked my horn
and they started to go as the light turned red.
It was red as can be and I went through it.
I followed them through the intersection inches behind them.
I was not going to wait for another 2.5 minutes
to cross West Dodge Road.
I had waited for my turn and I was taking it.
I could blame it on the allegra, right?
That was not smart.
Jesus said,
"It would be better for anyone
who leads astray one of these little ones
who believe in me,
to be drowned by a millstone around his neck,
in the depths of the sea."
Matthew 18:6
I say Lord have mercy on the moviemakers
and songmakers.
They lead children down the wrong path sometimes.
They teach them very bad/evil things.
It does not have to be that way.
They can make movies for the whole family.
They can sing songs with decent lyrics.
Jesus, we pray today for Liz.
We pray for all songwriters and moviescript writers.
Be with them today.
Help them to write uplifting words and scenes.
Be with them.
Show them their errors.
Give them the red light in their face.
Help them to present the good instead of the bad.
Show them the bright light.
It is not far from them and worth waiting for.
---
(August 16, 2004 5:05 AM CDT)
There is SO...much to pray for this week.
We pray for all the people in Florida
that were impacted by hurricane Charlie .
I have been to Fort Myers and Naples multiple times.
I saw Sanibel Island once.
My heart goes out to these people.
God be with them as they rebuild their lives.

Today is the birthday of two friends.
God bless them and their families today.
The 16th day of the month...
hey, a good day of the month to be born!
Happy Birthday!

I'm praying for everyone
that will attend the Women of Faith conference
in Omaha this Friday and Saturday.
It should be exciting.
There are people that I work with that will attend this.
It should literally be out of this world!
It will bring many many blessings to the Omaha/CB area.

Are you ready for this?
Way back on July 15th I purchased a DVD player
from Sam's Club here in Omaha.
It was around $60.
Anyway yesterday I go to Blockbuster Video
to rent some movies.
I picked out 5 DVDs and took them to the counter.
Jon the manager informed me that
I had grabbed the wrong thing off the shelves.
I had the display covers, but what I needed was
the Blockbuster case that held the DVDs behind the covers.
Duh!
My, am I clueless or what!
He was nice and rounded up the 5 DVDs for me
around the store.
I watched 13 Going On 30 .
It is a "light" movie...nothing to serious.
It was alright.
You should be at least 13 to see it though.
They do use the "F" word a couple of times
(for no reason that I could see).
There were a few sexual references
that kids should not see.
The editing was very poor.
You had to watch the "deleted scenes"
that they had left out of the movie itself
to visually "see" the whole movie.
For example they keep showing you Matt writing
in his appointment book
and tracing a heart around the words
"Jenna Dinner 8 PM"
and then that scene was left out of the movie.
There is no dinner at 8 PM scene
presented to the audience.
Talk about being clueless!
I am really a tough movie critic.
It takes a lot to impress me...
it does!
I would recommend seeing the movie "Big" with Tom Hanks.
It had the original idea and made a movie
the way a movie should be made.
The movie flowed and it was magical and
had many touching moments.
It moved your heart.
It made you smile or laugh or cry.
It made you think.
It pulled you into the story.
You wanted to see the movie over and over.
And other thing...
It was WAY too predictable!
The ending came too fast.
They should have expanded on it for 2 or 3 minutes.
They had a lot to work with and
did little with it at the end.
Maybe they ran out of money or ideas or time or got tired.
I love Tom Hanks.
He is great.
If I ever made a movie,
Tom Hanks would be in it.
"The Mind of God" could definitely
be made into a movie.
Tom Hanks would play the part of Sam.
I just sent an email to sonypictures.com
and we'll see what they say.
They will probably say...nothing...
but you never know...
sometimes your dreams do come true.
If it makes them money, then...
Life is full of surprises!
Every single day is a surprise anymore for me!

As the week goes on,
I will be reviewing the other DVDs.
I probably won't like any of them!
"In the second year of his reign
King Nebuchadnezzar had a dream
which left his spirit no rest
and robbed him of his sleep."
Daniel 2:1
God has a dream for us.
He has a plan for each of us.
Are you open to his dream?
Are you willing to give it a try?
You will never "rest" until you find the Lord.
---
(August 15, 2004 5:28 AM CDT)
I just burned a CD of the 11 pictures I took last evening
at a friend's b-day party.
I can't show you any of them,
since they are of people that were there.
Sorry.
I should have taken way more pictures.
11 is not that many for me.
I will give the CD to the b-day person
the next time I see them.
It should also be noted that the spouse of the b-day person
used that word I told you about yesterday.
I heard them say it in a sentence.
This morning I am "on drugs."
It is hay fever season here in eastern Nebraska.
I am taking allegra .
So far it is not passing the test.
I got some samples from Dr. Dunning on August 9th,
so I'm testing out what he gave me.
I talked to Pat Wallace on the phone yesterday.
He calls me every 6 months to see how my car is doing.
He sold me the car way back on Tuesday, January 30th, 2001.
You can read about it on the January 31, 2001 entry .
He is still there at Lexus of Omaha, 132nd and West Dodge Road.
His number is 402-333-6400, if you need a car.
I told him that I still do not feel comfortable
driving a Lexus.
It is way too nice a car for me.
I see Camry's driving around and I want one of them.
I would feel comfortable with a Camry that is a few years old.
On the Saturday before that I went to the car dealer
to look at a 1998 Toyota Avalon.
I called and made an appointment to see it that afternoon.
I came there and these other people were looking at the car.
They test drove it and had it the whole time I was there,
so I asked Pat if I could test drive this other
car that was just sitting there.
He gave me the keys and off I went.
He did not even write down my driver's license number
or insurance company or anything.
He only had my name from the phone call earlier in the day.
Maybe they ran a credit check or something like that
behind the scenes.
I drove up and down the rolling hills of Pacific Street and
Highway 6 west of Omaha.
I brought along a CD to play as I drove along.
It was named Michael Jackson's Thriller .
(You can hear a few seconds
of some of the songs on this link.)
According to this link it has sold 45 million copies
(i.e. a bazillion copies) worldwide.
It is "a classic" I tell people.
I'm playing that very CD right now.
The music is excellent!
His personal life is questionable/strange,
but his music is awesome!
Talk about someone who is "musically gifted"...
he is!
Wow...he can dance too!
I got back from the test drive
and those people were still "hogging" that 1998 Avalon .
I had no chance that day to get near it!
The next Monday I found out that
they did not end up buying the car.
It was still sitting there on the lot.
How ironic!
I ended up buying the Lexus.
I told Pat yesterday that the car is "a blessing."
I believe that God blesses people.
You don't even feel comfortable and
God blesses you.
He just "blows you away" sometimes.
He overdoes it.
He does!
Pat believes in God's blessings.
He said he does.
I owe that Pat one.
I do.
I need to thank him somehow someway.
God bless him and his family.
(I'm sure God will.)
There was no way I could buy that Avalon
that day (Saturday, January 27th, 2001).
It was not meant to be.
God had another plan for me.
"The Lord bless you and keep you!
The Lord let his face shine upon you,
and be gracious to you!
The Lord look upon you kindly
and give you peace!"
Numbers 6:24-26
Receive God's blessings today!
They are there.
Ask.
Be blessed.
It is a thrill that never ends!

(Note: I just checked my email at 6:49 AM and
one of the SPAM/fraud emails is titled "DIVINE BLESSING."
Can a SPAM/fraud email "confirm" a message from God to you?
Believe it!
God can even use evil for good.)
---
(August 14, 2004 5:36 AM CDT)
This morning I'm reading about the definition of bazillion .
Is it infinity or infinity minus one?
The Microsoft Word spell checker accepts it.
It is a word in the dictionary .
And another definition says:
Bazillion: An exaggeration of a number so large that it could never really be counted to.
Example: I would have made it here sooner honey, but there were a bazillion cars on the road and they were all goin really slow.
Zillion is a word.
dictionary.com says zillion means:
adj : very large indeterminate number; "a zillion people were there"
Interesting.
I never use that word.
It is that MLB that does.
This morning I'm watching a small candy box
go across the USA.
It does not have any candy in it.
You can track it at www.usps.com .
Enter the number 03033430000238451607 and click on "Go".
It contains 3 objects in it
one of which is from a company in Italy named Aurafin.
The other 2 objects are from Dayton, Ohio.
Last evening for a few minutes
I had one of the most beautiful girls
in Omaha in my car.
I did...for a few minutes.
That is my niece that goes to Creighton.
This picture was taken a "few" years ago.
She likes country music,
so I gave her both of my Sara Evans CDs.
I need to buy two more CDs from Wal-Mart.
(I just did for $20.20.)
She really liked the song "Saints and Angels" ,
as I played it on my CD in my car.
(You can hear a few seconds of it on this link.
It is track 2.)
She said she had not heard it in a long time.
I can remember how old she is
because she was born in the year (1985)
that I started to work for Qwest .
She is a number one child,
so she will probably be the first woman pres of the USA
(or something like that).
We went to Mama's Pizza on Saddle Creek to get two pizzas
and ran into Corene/Coreen
from the church a half mile east of there up the hill.
I introduced the two of them.
"Make no mistake about this, my dear brothers and sisters.
Every worthwhile gift,
every genuine benefit comes from above,
descending from the Father of the heavenly luminaries,
who cannot change and who is never shadowed over."
James 1:16-17
I tell this to people
and I don't think they get it.
All good gifts come from Heaven above.
(As I listen to that Sara sing "Born to Fly"!
She is a gift!
You can hear a few seconds of this song
on that previous Sara link above somewhere on Track 1.)
I gave the gifts to my niece,
but they "really" "truly" were from God.
It is a tough concept to get.
God uses us to touch others.
We "work" for him.
We "operate" on his behalf.
---
(August 13, 2004 5:53 AM CDT)
The cake is iced and frozen in the freezer.
When you are pres of S2L you don't even need an appointment book.
People just "show up" for meetings that God schedules...
they do!
For example I tried to call someone yesterday
and they did not answer the phone, so I left a message.
Then at 11:30 AM I run into them at 11th and Harney
outside a restaurant I was going to lunch at with 12 people.
They were going to lunch there also with two other people.
We talked for a few seconds in person and that was it.
She answered my phone message
"live and direct from downtown Omaha."
Then coming back from lunch to the building where I work
I was thinking about I needed to talk to another person.
And there they are as I enter the building.
I shouted their name from about 20 feet away
and said I needed to talk to them.
We rode up the elevator together to their floor.
She works one floor below me in this building.
All 3 of us were together at a seminar in Beaver Creek, Colorado
about 10-15 years ago.
I knew person number one before the seminar
and met person number two at the seminar.
The day before yesterday I went to lunch "alone"
and of course someone shows up for their appointment
at the Brandeis Food Court.
It is Conrad that knows FWNN.
There were 17 kids in his family in Humphrey, Nebraska.
He says the town is at
the intersection of Highways 81 and 91.
(Sounds like another trip for me, doesn't it?)
He says Humphrey is 100 miles due west of Omaha.
He is confused.
It is not straight west of Omaha.
I asked him repeatedly if he meant straight west
and he said that is what he meant.
It is slightly north of where Omaha is.
I just looked at the map.
He is definitely confused and I better "enlighten" him.
At lunch I asked him about a lunch many years ago
where he, FWNN, Tom and me got together.
He remembers it.
FWNN remembers it.
I don't remember it.
I set up one of my two VCRs to record
the opening ceremonies of the Olympics tonight.
Who knows when I will watch the 6 hour tape...
I don't have time to watch TV.
I don't!
The VCR Plus code in Omaha area to record this is 127771.
(If you understand the explanation of VCR Plus codes
on this link, let me know.)
Jesus said,
"If you, with all your sins,
know how to give your children good things,
how much more will the heavenly Father
give the Holy Spirit to those who ask him."
Luke 11:13
I think that is pretty straight forward.
Ask and it will be given to you.
Ask for the Holy Spirit to come into your life.
The Holy Spirit will guide you to the truth.
The Spirit will make "appointments" for you.
(Some people would call these "divine appointments."
They definitely are an interesting phenomenon.)
There are many people in need.
They need you.
They are confused and need to know the truth.
You can inform them (in a gentle manner)
what the truth is.
---
(August 12, 2004 6:22 AM CDT)
(Update at 8:37 PM:
Here is a warning for you downtown people in Omaha.
Don't park on the south side of the UPRR building anymore.
They ticketed all the cars there today.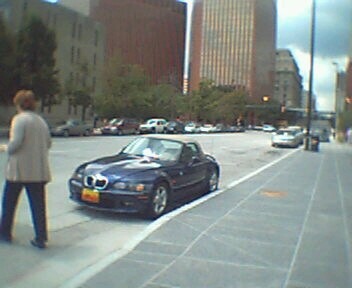 I just love this sidewalk in front of the UPRR building.

And I just finished baking a cake for a friend.
Her birthday is the Monday, August 16th,
just 4 months before mine (hint, hint).
I need to let it cool and then ice it.
The thing is that the cake will probably
be gone by the time Monday rolls around.
)
This morning I'm reading about the Andromeda Galaxy .
It is numbered M31,
but I think Charles Messier made a mistake.
It should be numbered M33.
It is simply beautiful!
"How deep are the riches
and the wisdom
and the knowledge of God!"
Romans 11:33
Yesterday I asked someone in my work group for help.
I could not figure out this computer error I was getting.
(A FTP error 425 connection refused something or other.)
I even prayed over the course of two weeks for the answer,
but I could not resolve the issue.
I needed to ask for help.
I tried to do it all by myself, but I could not.
Maybe that is you.
You don't want to ask for help.
You think you can do it all on your own.
You are afraid to ask.
Ask others around you for help.
They are gifts from God to you.
They are the answer to your prayer.
Let us work together.
Then move on...
There is so much to do!
We need to keep moving...
---
(August 11, 2004 5:15 AM CDT)
(Update at 8:19 PM:
Here are the pictures from the Sara Evans concert
in Lincoln, Nebraska on August 8th, 2004.
These pictures are copyrighted by MLB 2004.






And speaking of pictures with bubbles in them...
just look at this magical picture
taken by Dave Wright.

And here are some pictures from the Heartland of America Park
in downtown Omaha today at lunchtime.
I took them with my cell phone,
so the quality is not that great.
I went for a walk down to the river and back.
It was a nice fall weather day.
I could have used a light jacket.



)
I met Ellen yesterday at the Omaha World-Herald.
It was just before Noon, since I had a Noon meeting to attend.
I called her on my cell phone and moved the time up.
I had to sign my name 3 times...one for each copy of the contract.
I will work with her to set up the advertisements.
She seems like a nice person to work with.
God bless her and her family!
I gave her a color copy of To Be A Success In 2001
off my new printer/copier/scanner machine.
I wrote on it "Style Only".
She will keep this in my file to set up the fonts and type sizes.
And I signed up for a Post Office box at about 16th and Farnam
on Monday.
The number they gave me is 261, so I have updated
To Be A Success In 2004 with this number.
There are very few people who write to me,
but there are some.
They don't have and/or don't want Internet access and email.
You can see above I am starting to work on
The Day My Dad Died .
You can watch as it goes through the various versions.
I will be working with my friend (MCB) in Newport Beach, California
to get the words right.
We trade emails and sometimes phone calls to discuss things.
The words and ideas have to flow.
You don't want people to read and reread sentences
to try to get what you are saying.
I'm sure you know that I am a perfectionist.
I want the advertisement to be perfect.
I want it to look perfect and be perfect.
This means that I will probably drive Ellen crazy with revisions
and changes in the next few weeks.
"Husbands, love your wives,
as Christ loved the church."
Ephesians 5:25
It is right there in the Bible.
Love your wife.
Would you do that?
Would you do something special for her today?
I will pray for you
to come up with something special and creative...
to make this a day that she never will forget.
---
(August 10, 2004 5:18 AM CDT)
Last night I was writing "Thank You" notes at SFH
with two of my friends.
One of the people to write a note to
was the pastor of the church I had gone to on Sunday
just the day before.
I saw that name and address (2218 Binney Street).
I know that guy.
I've been there.
It was just sitting there all night
and for some strange reason I did not write the note to him.
I kept skipping over him.
I wrote notes to lots of other people,
but not to him.
Very strange!
There is a song from the concert that
keeps playing over and over in my mind this morning.
I did not have it on any of my CD-s,
so I went out to Walmart.com to get it.
You click on "Music".
Then click on "Download Any Song - Just 88 cents".
Search "by Song" for "No Place That Far" and click "Find".
The search comes back with Sara Evans as the first entry.
I downloaded the whole album.
Right now I'm listening to the number 5 track
"No Place That Far".
You can listen to a few seconds of it at that web site.
Jesus asked,
"Who among you,
if he has a hundred sheep
and loses one of them,
does not leave the ninety-nine in the wasteland
and follow the lost one until he finds it?"
Luke 15:4
That is God.
He is looking for you.
He is crossing the hills and streams searching...
searching for you.
You are lost.
You are wandering in the wasteland.
He is concerned all about you.
He longs to see your face.
Literally...there is no place that far
that God would not go to find you!
Be found.
---
(August 9, 2004 6:03 AM CDT)
Yesterday was a magical day for me.
It was.
I could not ask for more, as Sara would say/sing.
I went to church at
22nd and Binney.
Sometimes God points people out to me.
He says to watch that person.
There was this young lady "rocking out" to the music.
She was having a good time.
Afterwards I asked her about
where to by the CD of the Freedom Choir.
She did not know.
I told her that I saw her "rocking out"
and she said you can really feel the Spirit
or something to that effect.
Then I asked the guy playing the drums
if he knew where to buy the CD.
He starts off by saying he knew who I was.
It was Mike!
We both worked together at the Francis House
about 10/15 years ago.
I told him I was going to cry.
God just blows me away sometimes!
He does!
Sorry about getting so emotional!
Mike ran the show there.
I came in one evening a week
and watched the place as a volunteer
when they had their staff meetings.
I listened to the CD and I will leave it at that.
I am used to listening to Sara.
Did you see that I replaced Brittany Spears with Sara Evans
in To Be A Success In 2004 ?
I need to get a Post Office Box downtown,
so I can fill in the numbers at the bottom.
Yes, I was in Lincoln last night.
We (MLB, my Lincoln buddy) and me went to the
original Valentino's on 35th and Holdridge Streets.
Our table attendant was, of course, named Sara!
I tell you my life is a movie.
We told Sara that we were going to see Sara.
She was jealous.
At the concert we were right in front of the stage.
We were within 15 feet at times as Sara was singing.
Wow!
That was cool!
I have never been that close to the stage before.
Parents even brought their kids to the show.
It was a show you could bring the whole family to.
Sara's baby is due in 7 weeks she said.
It was very obvious that she was pregnant.
Sara and Craig don't know if it will be a boy or girl.
They wanted to be surprised.
I was surprised.
MLB was surprised.
We had a blast!
One of girls next to us fainted near the end of the show.
It was a little warm where we were and
we had been standing a long time.
MLB took lots of pictures, so stay tuned.
I was going to bring in my camera,
but it is way too big.
MLB has a little pocket camera.
Sara had two bubble machines going on one song
(Suds In The Bucket),
so it will be interesting to see how the pictures turned out.

Sorry I have to go to work...
---
(August 8, 2004 8:33 AM CDT)
It is a good thing I did not wash my car yesterday.
It is raining right now.
Hy-Vee at Oak View Mall
is selling 2 roses for a $1 again.
They are just too predictable.
I just got back from a walk in the rain
with my umbrella.
I circled the Mall.
It is a long way around that place!
I saw all kinds of businesses.
I think I want to check out
an Italian restaurant named Buca di Beppo .
I'm getting hungry just looking at their web site.
And...I have a coupon for $10 off, if you spend $25.
Interesting.

And here are some pictures I took this morning
from the grocery store I told you about yesterday.
Sunrise this morning was at 6:26 AM
according to our local newspaper.
And Weather Underground agrees with that.
This first picture is very close to that time.


Here is my car and the store.
The grocery carts were very hard to pull apart.
I forgot to tell you that yesterday.


Here is the picture of the day.
I waited around a few minutes,
but the clouds were in the way.
You just could not see the sun.


This picture is maybe 7 AM from Oak View Mall on 144th Street.
The sun was trying to shine!


A storm was coming in from the west.


Here is my car and the Mall.



These birds tried to attack me!



There was lightning in these clouds to the southwest of the Mall.
I tried and tried to capture the lightning in a picture,
but I guess I'm not fast enough!

Jesus said,
"Know that I am with you always,
until the end of the world!"
Matthew 28:20
We look for Jesus in the morning.
Is he there or not?
Where can he be?
He is supposed to be here.
It takes faith to believe in him.
It takes trust.
He is there behind the clouds.
He is shining very brightly!
He is there.
He is there for you and me.
---
(August 7, 2004 5:36 AM CDT and 3:24 PM CDT)
I was just looking at the statistics for S2L.
August, 2003 is very popular.
Maybe it is because of the pictures of Creighton University
on August 28, 2003 that I took.
School will be starting soon.
The other day I discovered that on the 8th floor of the building
where I work there is a print of the picture of my keyboard
also seen on the August 28, 2003 entry.
Since then I have switched the letters ("R" and "S") back,
because of all the confusion in typing.
I couldn't look at the keyboard
to type things correctly.
The New York Times
web page is number 3 this week on the stats.
I have been thinking about putting
the "To Be A Success In 2004" in the New York Times.
Someone yesterday was asking me by way of a voice message
if we had won the lottery
and my reply was No.
(They did not hear the "No".
I just said it to myself.)
I don't think God wants me
to sell my house or car or take out a loan to do it.
Does he?
It would cost a small fortune.
But then again all good gifts come from above.
Well, I'll talk to them in New York
just to see how much it would cost.
It does mention Katie Couric in the text
and you wonder what she would think of it.
Who is this crazy guy from Nebraska?
She lives right there in NYC with her two daughters.
I won at racquetball yesterday.
I played my nephew again.
It was close.
I only won by two points.
We played 5 games and I won 3.
We played on court #3, of course, at the "Y" downtown.
I am hurting all over.
My right arm is very stiff.
I tried to get a hold of Karen at our local newspaper
and she has moved on to bigger and better things.
So I worked with Ellen Collins (402-444-1457,
ellen.collins@owh.com).
Give her a call, if you need to do some advertising.
We will set up a 30-inch contract.
This is the minimum contract amount.
That gives us a rate of
$74.60 per column inch.
So you can do the multiplication.
Last evening I was driving around town thinking
I need to make a copy of my previous advertisement
to show Ellen.
I was thinking where can a make a copy
then it hit me...I have a copier at home now
and it is a color copier no less!
Duh!
So I just made a copy of "To Be A Success In 2001"
for her on my new copier/scanner/printer.
This is for the "Style Only" and will show her
the font (Helvetica) and type sizes that I like.
I get to meet her at High Noon Tuesday,
since we work across the street from each other
at 14th and Dodge.
She asked me if I was a pastor
and I said No.
In 1982 I felt called by God to start S2L
to tell people to come back to life with God.
She said you can't place an advertisment on a specific page.
You can just go for Section A or B
and it could be either one.
She said the computer sets it all up now.
The column widths are different also from in 2001.

...
...
... 3:24 PM CDT
...
...

Sara is expecting her third child in late September.

I talked to Lisa at AAA around 11:20 AM and
set up a trip to Los Angeles, California
(airport code LAX, the city of angels).
It should be fun.
I have never flown into LAX before.
I have driven past it a few times on PCH
(Pacific Coast Highway, Highway 1).

Also today around 9:30 AM I went to a grocery store
I've never been to in my life.
It is located southwest of 144th and Q Streets.
It is way up on a hill and has a fantastic view
of the eastern horizon.
144th Street is known for it's beautiful sunrises/sunsets.
I drove the checkout attendant Wendy crazy.
I gave her my credit card and then ran off
to get a carton of eggs that I forgot.
Poor Wendy.
I kept telling her that I was sorry
for holding up the line.
I bought some cranberry nut cookies there.
I've never heard of such a thing.
They are not too bad!
"Eye has not seen,
ear has not heard,
nor has it so much as dawned on man
what God has prepared for those who love him."
1 Corinthians 2:9
It has never dawned on you.
You have access to immense power.
You just don't know.
You are not aware of it.
Call on the name of Jesus.
He is there.
It is simple.
He will respond and help you.
Now why didn't I think of that...
Duh!
---
(August 6, 2004 5:56 AM CDT)
Here are some pictures from Bellevue, Nebraska last evening.
Bellevue is just south of Omaha a few miles.
This is the China Road restaurant
on Hyw 370 and west of 36th Street.
My car is number 5 in this picture.


Right next door to the west is Nobbies.
I wonder if I would qualify to work there.
Am I a "FUN PEOPLE"?


I looked all over the restaurant for my friends.
One of the attendants pointed me to the deck outside.
Surprise!
Cool!
What a neat setting!
There was one group sitting next to us.
This was their table after they left.


This is the soccer fields right off the deck.



In the distance to the north is the ice cream place
I think it is called Culver's , right?
I don't know Bellevue very well.


We watched the sunset.



This next picture was taken by my FWNN.
(FWNN stands for friend with no name.)
I was trying to show her how to use my camera.
And it shot off into the clear blue yonder!
I save all my pictures that I take to my PC hard drive
even the mistakes.
I keep them all for some strange reason.
I don't know why.
That's me.


Then FWNN got her act together.
This is a good picture.
This is copyright 2004 by FWNN.


And another one by FWNN.


And a close up of the sunset in the neighborhood
west of there.

This morning I'm working on my "S2L Tour 2004."
No...I'm not running for President of the USA!
Here are the cities so far:
Carroll, Iowa (been there done that)
Lincoln, Nebraska (been there done that)
Dayton, Ohio
Dublin, Ohio
New York City, New York
Long Island, New York
Livingston, New Jersey
Somewhere ??? in Virginia where John lives
(I have to send him an email and ask where he is at.)
(The answer is North, VA.)
Washington, D.C. (I call it WDC)
Jackson, Mississippi
Newport Beach, California
Santa Monica, California
Las Vegas, Nevada
Denver, Colorado
The travel agent at AAA will be glad to talk to me.
They will think they died and went to heaven
when they see this list.
Mark September 12 and 19 on your calendars!
FWNN said that I needed to put an advertisement
in our local newspaper.
I usually have two advertisements and both will
"point" at each other.
i.e.:
"Next week watch for To Be A Success in 2004..."
"Last week I wrote about the day my Dad died...
it was on page A-3..."
It is one thing to write each day on the Internet,
but the newspaper will reach WAY more people.
A very good point there made by FWNN!
Some people would call this prophecy.
God told FWNN to tell me.
If that is true, I better listen!
I better!
I told FWNN to pick a Sunday in September
and she picked the 12th.
And the rest is history as they say.
I need to contact Karen Dolak at our local newspaper.
She was my last contact for the advertisements
on April 8 and 15, 2001.
The titles of the advertisements for September 12 and 19
will be "The Day My Dad Died" and
"To Be a Success in 2004".
Something new...something old...
It will be fun to do this.
I think it will be in Section A of the newspaper.
Maybe I should request Page A-3.
I wonder if I can do that.
Karen will know.
I got an email yesterday from "Cousin" Lauri
by way of Cousin Ron and "Cousin" Gene.
You just look at this...
She signs all her email with these words.
This is an exact cut/paste of the text.
"Phillipians 4:13 I can do all things thru Christ who strengthens me!"
Wow!
Even I don't do that
and I'm President of Spring To Life.
I sent her an email and
told her that I was proud of her.
---
(August 5, 2004 5:28 AM CDT)
Nothing happened yesterday.
...
Get it?
It's a joke.
Ha, ha, ha...
If I say anything,
I will get "killed."
Yesterday did not happen
from an S2L point of view.
"May the God of peace be with you all.
Amen."
Romans 15:33
I pray that the lives of people be at peace.
There is so much going on around me
and in the world.
I pray for the peace that only Jesus can bring.
I pray for more understanding and cooperation
between countries of this world.
As best as possible,
may there truly be peace on earth.
We need it and that is no joke.
We do!
Peace be with you.
---
(August 4, 2004 6:03 AM CDT)
This morning I'm trying to "jump ahead" in the movie.
I'm trying to picture scenes that have yet to happen
in my life.
For example I'm trying to picture the day
Gino and I go to breakfast or lunch.
Gino is the janitor in our building.
He is probably old enough to be my grandfather.
I always say Hi to him
when he comes to pick up the trash
on my floor or when I see him on the elevators.
Yesterday on 1st floor I said, "Hi Gino"
from about 20 feet away.
I only learned his name a few days ago.
I just went up to him and asked him his name.
I didn't have to do that.
I could have just continued to say Hi
and left it at that.
A person's first name is VERY important to them.
Once you learn someone's first name,
write it down.
I have to write things down
to remember them anymore!
How to spell names is tricky!
It is.
You see in my writings things like
Terry/Terri/Terrie, etc.
You just don't know and I guess
it's only important if you have to write to them.
"Fear not,
for I have redeemed you;
I have called you by name:
you are mine."
Isaiah 43:1
Jesus knows all about you.
He knows your name.
He knows easily how to spell your name
and the moment you made any changes
to the spelling and why.
He calls you by your name.
He says, "I want to have lunch with you."
Let us sit down and talk.
Let us learn all about each other.
Well, then again, he already knows all about you.
You need to learn all about him.
His name is Jesus, if you have never met him.
I have known him for as long as I can recall
in all my memories.
Jesus is my best friend.
I ask him for help all the time.
He is great!
He is awesome.
I know him and he knows me.
I hope and pray that you
would get to know him.
Check him out!
His name is Jesus.
---
(August 3, 2004 6:03 AM CDT)
(Update at 9:22 PM:
A big thunderstorm went through Omaha this evening.
I took some pictures from the Crossroads Mall
at 72nd and Dodge Street.
The roof leaks all over the place,
so they had buckets to collect the water.
I used my phone to take the pictures,
so they are not that detailed.
Some were shot from the roof
of the parking garage.
The second picture has the end of a rainbow in it.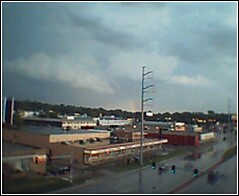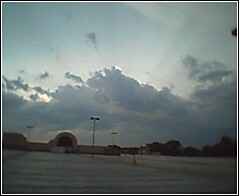 )
Last night when I was at dinner with some friends
I told them that my life is like a movie to me.
It is a 3-D movie that I am part of.
I can interact with the other actors.
I can ad-lib and make my own dialog.
Then the movie heads off on some tangent!
And I wonder about who has written the script
and what is the next scene.
Where is this movie going?
There are happy scenes and there are sad scenes.
If you knew me,
you would know I cry at real (or is it unreal) movies,
so it is no surprise
that I have tears in my eyes now (and then).
Wow!
I just shake my head right now.
Back in college we had this room in our dorm named
the Unreality Room.
(It does not exist anymore.
They made it into offices and a classroom.)
There are times when I just can't believe
what is happening around me.
I just don't comprehend it.
I don't get it.
I don't see the punch line.
I don't see the reasoning.
I just don't understand.

The neatest thing about life is that you (Y-O-U)
can change people's lives.
We interact with each other.
We "bounce off" each other
(or some technical term like that).
(You know this.
I'm not telling you anything new.)
You have an effect on them.
You can make their day!
You can destroy their day!
You can help them.
I talk to complete strangers all the time
and all of a sudden they are not strangers.
Go for it!

And Julie will have her baby tomorrow, August 4th.
(Note 8-7-2004 5:00 PM: she had a baby girl!
I saw a picture of her on a hospital web site.)
Pray for her and her new child.
It will be another one of those
#3 kids entering the world.
Watch out world!
Stay tuned.
I'm looking at the calculator here on my desk.
It has the number 33 on it staring at me.
That is the calculation of 2004 minus 1971.
That is how old Sara Evans is.
She was born 2-5-1971 in New Franklin, Missouri.
It is east of Kansas City and west of St. Louis.
It is about in the middle of the state.
I believe that she is expecting #3 kid soon .
This link says she's at month #8 now, or so.
And yesterday I forgot to shave.
This is an indicator.
You all better pray for me.
I am losing touch with reality.
I'm losing it...
"We had to celebrate and rejoice!
This brother of yours was dead,
and has come back to life.
He was lost and is found."
Luke 15:31-32
Sin is real.
It exists.
The government warns us about terrorists
that can strike at any moment.
It is in you and it is in me.
It is real.
It can kill you.
It kills all the happy scenes of life.
You can choose death or life.
I say:
go for the happy endings...
choose life...
life with God.
Please, don't lose your life (your soul),
it is all that you have.
Don't lose it!
Jesus, forgive me.
I have done wrong.
I need you.
Forgive my sins.
Come into my life and change me.
---
(August 2, 2004 5:24 AM CDT)
I just scanned in a picture of Dave
that I used to work with.
He died back on March 9th of this year.
I will send the picture to his wife Carole
later today from work
where I have her email address saved.
Carole wrote to me recently on July 16th.
The picture was taken in downtown Denver
maybe 10 years ago
(by I'm not sure who)
of Bob, me, Dave and Kim.
We all worked together.
I bought a printer/scanner/copier the other day.
It is an HP PSC 1210V .
Wow, it prints very nice glossy pictures!
I am impressed.
I put it right to use as you can see.
Now I can scan any picture or paper
from my vast archives and show you things.
Speaking of Carole...
I went to lunch with a Carol/Carole
(not sure of spelling) yesterday.
I just looked it up.
It is Carol.
Another person at the table had the last name of Carroll.
(Note: a week ago I went to Carroll, Iowa.
I was also wearing a yellow shirt I bought in Carroll.)
The third person was "old enough to be my Mom",
as they say.
In fact she was born on the exact same day.
I took my Mom and two of her neighbors to lunch
at 45th and Dodge.
We had a very interesting conversation.
I learned all kinds of things.
Would you believe that I did not buy Cherry Coke
at the grocery store yesterday?
I am "addicted" to Cherry Coke.
No, I bought Mountain Dew Code Red .
Yea, now explain why that happened!
This web site says that Code Red
is when there is a fire in a hospital.
Alright, I so noted that.
There were ads in yesterday's local newspaper (page 21A)
for $214 to NYC non-stop!
Then again I misread it.
It is NOT non-stop.
Does God want me to go see
my Godfather Walter and his wife Annie?
(You know "The Godfather", da godfather, etc.)
I need to go check up on him maybe.
I have not seen them since 1986.
Their daughter Annette died of cancer
within the last year.
We (my family) did not find out until
long after it happened.
I have pictures of Annette somewhere.
I will have to dig them out of the archives.
I imagine the family is still hurting
from this loss.
But still, $214...
But I want to go to California
and walk on the beaches at Newport Beach and Santa Monica.
There is nothing like a walk on the beach.
I want to go west not east!
I get the feeling God will win this argument
for some reason.
Life is so complicated!
Then again...there ARE beaches on Long Island
where Walter lives.
I can walk the 4 blocks to the beach
from his house.
Cool!
I think we are on to something here.
If I would go to NYC itself,
the only thing I would like to see is Ground Zero
and say some prayers there
for everyone that died 9-11-2001.
I've been to NYC 3 times (1970, 19??, 1986).
I've seen "everything" famous that is there
that I want to see.
And I got yelled at driving my car yesterday
by a relative of mine.
I took my hands off the steering wheel
for a few seconds
to show 6 fingers for the 6 people having
a party at the Anchor Inn this week
as we drove out Abbott Drive.
For some strange reason I like to spell out small numbers
with my hands.
Like at the restaurant I signaled 4 fingers
when we needed a table for 4.
It's me.
That's me.
Hey, I'm sorry.
"O Lord, you probed me and you know me;
you know me when I sit and when I stand;
you understand my thoughts from afar."
Psalms 139:1-2
The Lord knows me.
He has a plan for me.
I don't always understand.
I get confused,
but he is there directing me.
I just need to hold on.
---
(August 1, 2004 5:10 AM CDT)
I made it to Lincoln, Nebraska yesterday afternoon.
I took 153 pictures, so here are some of them.
My car passed the 80,000 miles mark
on the way home along I-80.
It is 52 miles to downtown Lincoln from my house
and it takes less than an hour to get there.
Sara Evans will be at this theater
a week from today.
I wonder if I will get to see her?



The door is locked.
It must not be a safe neighborhood around the theater.


This is "O" Street looking west and east.
I call it Zero Street.
The walkways must be nice in the winter.
There's just something about me
standing in the middle of busy streets.
Have you noticed that?


Like I said before Lincoln is a bicycle town.
Here I brought my bicycle with me,
but I never got it out.
I just walked.
I got my exercise for the day.
It was a little warm in the 80s F degrees.


And, of course, the State Capitol
with the sower on top.


Look at this...M M M...Miracle Mile Motors.
Interesting.


This is the Newman Center.
I walked through these doors everyday
for about 4 and a half years
except in the summer.
Many, many memories and a lot of people
that I met there.



This is the dorm where I stayed
for my first two years.
At that time it was called Heppner Hall .
Not sure what it is called now.
It is still called that according to the link above.
Room number 2007 comes to mind,
but I'm not sure.
The address would have been 2007 Heppner Hall.
That sounds right.


This is cool.
This is the courtyard of Heppner Hall.
I loved this setting.
Was neat or groovy
or whatever they said back then.
You would hear stories about
guys in the tall dorm east of there with telescopes
watching the girls in the rooms
on the left side of this picture
in Love Hall.
Hey, I did not have a telescope.
Get the story straight now.
But I definitely fell in love with
a few girls that lived there.
You wonder where they are today.
I have not kept up with anyone,
I mean anyone, from my college days.


We called this place "Student Death"
instead of "Student Health."
Students would go there
and just about die.
Karen Jones (not sure if this name is right,
I'm pretty sure of the Jones part)
was sick forever I can remember with Mono.


The fountain is gone!
I loved that round fountain
in front of the Student Union.
People would put laundry soap in the water
and the place would be covered with suds.
A very interesting sight.
There was one day I spent the whole day there
asking people their favorite color.
(I got sunburned really bad.
Maybe one reason why I have/had skin cancer today.)
I learned fast.
Any girl that said "Yellow" make a note of that.
I did get their first names.
I met some really neat people that way.
And my favorite color?
Bluegreen.
Here is an example of that shade of color that I like
on the borders of this calendar cover.
And the new fountain isn't that bad...I guess.


Hey, this is where I studied about computers.
I did get a degree somehow in Computer Science.
It is amazing that I graduated.
I was having the time of my life.
You might not be reading this very page today,
if I did not study about computers here.



And, of course, the stadium.
You see it on TV all the time on Saturdays in the fall.
The words are from Hartley Burr Alexander .
It says,
"Not the victory but the action;
Not the goal but the game;
In the deed the glory."


It says "Truth"...not sure why...
This is northwest of the stadium
on a walkway over the railroad tracks.


Look what it says at Gate 3
(and every other gate).


Here are the rules before you get in the door.
The "Open Umbrellas" line I don't get.
What does that mean?
Why don't they just say "Umbrellas"?


This is where the coach hangs out.
They fire coaches here,
if you don't have a perfect season every season.
I don't think they read the words above...remember?...
not the victory...etc
I should have tried to get a picture of the coach.
Well, maybe next time.


I looked all over for this bell tower
and then there it was.
One day during a thunderstorm
Jack tried to levitate the tower.
He was into some really weird cult stuff.
We need to pray for Jack wherever he is.


This is where I got a "D" in swimming class.
I tell people I got a "D" because I drown.
This was a beginning swimming class
level 1 or something like that
and all these guys already knew how to swim.



Do you believe this?
402-432-1362.
Who would put their phone number
on their license plate?
I will have to call him/her later to find out.
Maybe it works as good as asking people
their favorite color.


And here is my shining 7-year old car
at the Mall on about 56th and "O" Streets.
At High Noon yesterday I got it hand washed in Omaha
at the church at 67th and Dodge Streets.
(Note on 8-2-04 at 6:08 AM:
after thinking back on this event
it was actually 12:12 PM on my watch
and not High Noon.
Sorry about that.
But then again we are on Daylight Savings Time so...)
It was THE last car that they washed.
They did a pretty good job.
I watched them pretty close.
They were collecting money for something or other.
Then they had a retreat in the afternoon.
God bless them.
They were a good bunch of kids.



Jesus said,
"I am the gate.
Whoever enters through me
will be safe."
John 10:9
There you are at gate number 3 (heaven's door).
What does it take to get in?
Drop your umbrella
and embrace Jesus.
He is all that you need.
Jesus, you are the truth.
I need you.
Come into my life.
Give me the victory in you.
It is High Noon.